Performance management
It is essential to have reliable set of indicators to manage a contact centre.
The TelServer administration console enables you to supervise all the resources engaged in real time (queues, status of agents, length of calls, etc.).
The statistics module gives a detailed analysis of traffic and enables you to optimize the organisation of these resources.
Thanks to room displays, all agents always know how well the services are working.

Real-time supervision
The contact centre supervisor ensures that activities are running smoothly and that the team is performing well. To meet their objectives and be responsive to traffic, supervisors must have simple and clear tools.
With the TelServer administration console , the supervisor will be able to observe the following pilot by pilot:
supervision alarms
the queue status (calls count, filling rate, queuing time, etc.)
services of the pilot queue
agents status
On-demand statistics
How are queues dimensioned? At what times must agents be the most present? Have quality of service and efficiency objectives been achieved? All these questions are decisive for the smooth running of the contact centre.
TelServer provides supervisors with a resolutely business-oriented statistic tool that will enable them to answer the main questions related to call handling.
These statistics can be accessed through the administration console. The following reports are also available: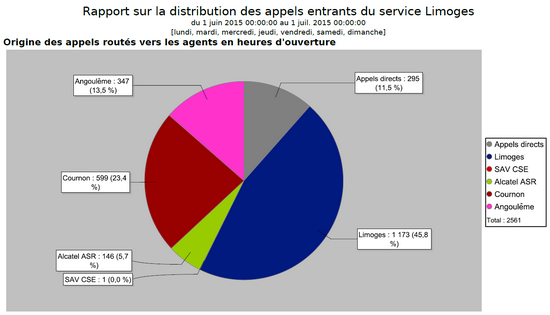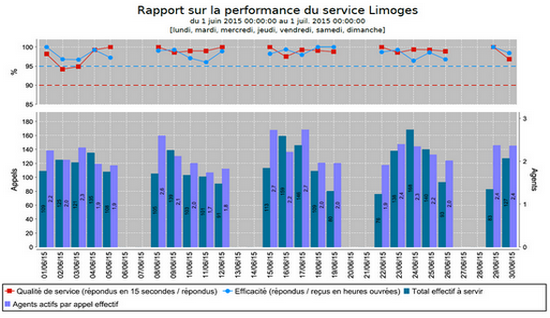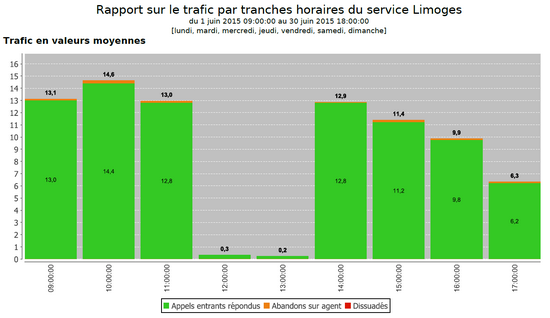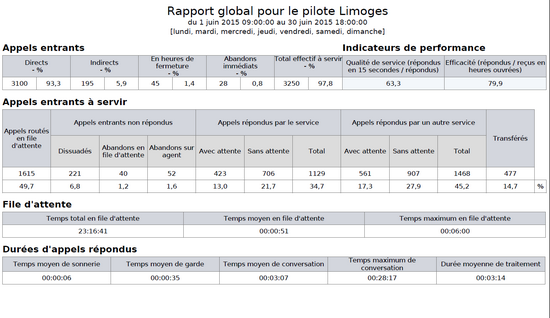 Report automation
There are some criteria that call for systematic and automatic monitoring. TelServer meets this requirement by enabling you to automate the generation of statistics reports and to send them to a user or distribution list. For example, you may want to send each agent their monthly production figures every month.
Using the administration console, administrators and supervisors can configure the automatic generation of reports, in particular with:
the choice of report
statistic observation time slot
the days to be considered
the desired period (day, week, month)
recipient(s)
report format (PDF, Excel, etc.)
Room displays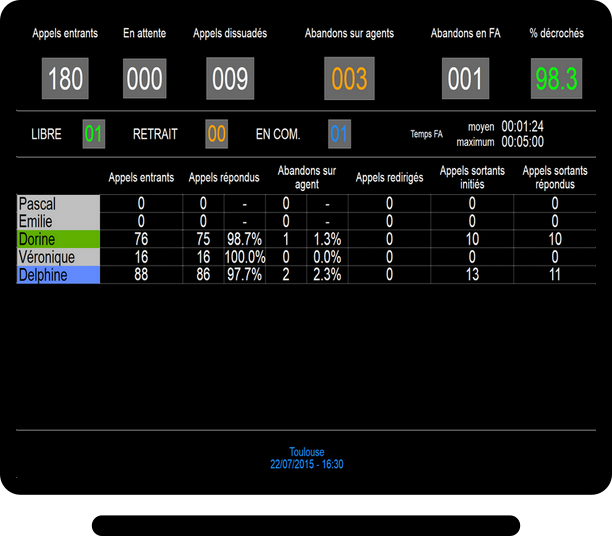 In the world of contact centres, the notions of pick-up rate and waiting times are essential criteria. It might be difficult to raise the awareness of production operators. To facilitate this day-to-day management, TelServer proposes real-time statistics displays that are easy to set up through simple web pages displayed on a monitor or television set.

TelServer proposes a standard display that displays information essential to maintaining your production and knows how to meet your business requirements by developing custom displays based on graphic constraints, business information and display sequences.